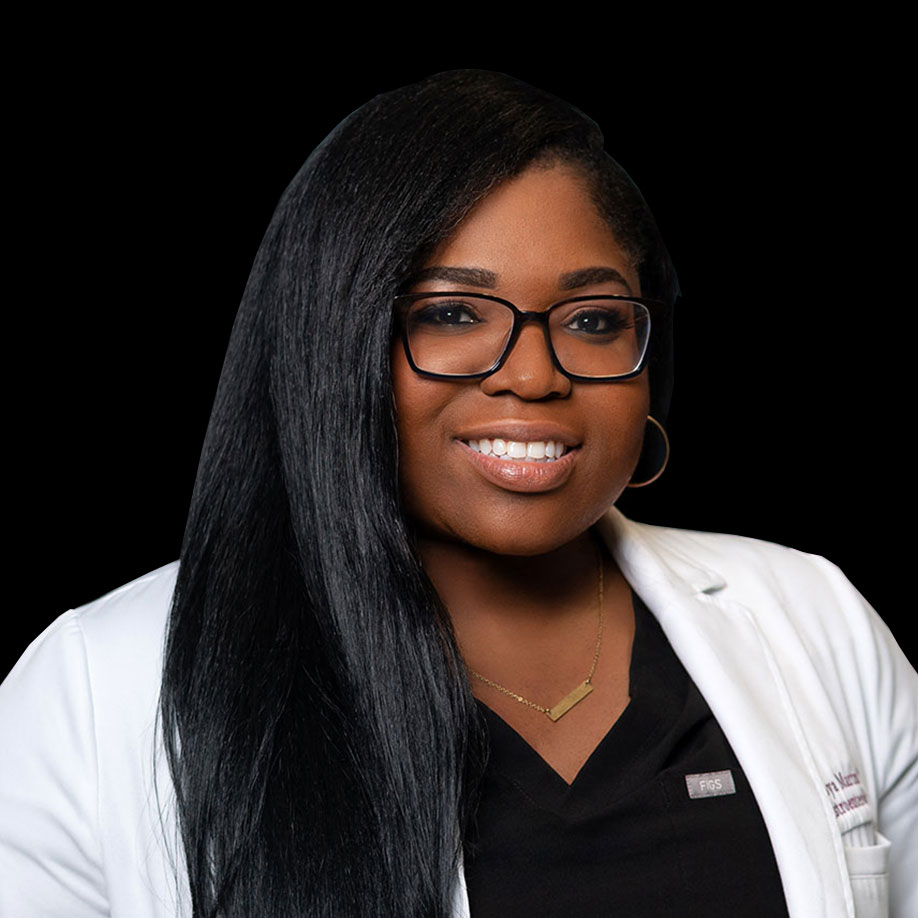 LaToya Martin, FNP-BC
Originally from Pompano Beach, FL, LaToya completed her undergraduate degree in Family & Child Science at Florida State University in 2006 while simultaneously pursuing her nursing degree. In 2008 she received a Bachelor of Science in Nursing degree from the University of South Florida, Tampa. She then earned a Master of Science degree from South University, Royal Palm Beach, FL in 2013.
She is nationally board certified with the American Nurses Credentialing Center (ANCC) as a family nurse practitioner and has extensive clinical experience in emergency medicine and primary care.
During her time in the emergency room, LaToya developed a special interest in digestive health and conditions that affect individuals based on culture and genetics.
LaToya believes that communication matters and that it is important to meet each patient at their level of understanding and need to provide the best possible care practices.
She enjoys taking care of her dog Onyx, traveling, and spending quality time with friends and loved ones.
What our patients are saying:
Dr. Ahmed and staff are welcoming, accommodating and professional.

First time here, great staff from start to finish.  This was my first procedure with Dr. Shamoun. He really knows what he's doing.

Very pleased with Dr. "V" and staff

I know feel better than I have in years

After having been to 3 other GI doctors I was ready to give up hope.  Dr. Gupta was very nice, explained my problems to me in 1 visit and came up with a great treatment plan.  I know feel better than I have in years!!

"I went to see Dr. Gupta for the first time after Dr. Mari sent me to him. I have been suffering from stomach pain and arthritis and have been hospitalized 3 times over the past 2 years for this with no answer. He said he was concerned about Crohn's disease and diagnosed me with this 2 days later ...Read More

"Blood in my stool prompted me to have a colonoscopy done by a surgeon and was told I would need to have half my colon removed because of pre-cancerous plops. The outlook for me was bleak, diarrhea, colostomy bag were some of the possible outcomes of a partial colon removal. After talking to my ...Read More

"A superior doctor/surgeon = very intelligent, very knowledgeable, kind and caring... Admire this doctor very much... Would recommend him to anyone for anything!!!!...I have had several surgeries by Dr. Gupta - all total painless!!!!!!!... very competent - thorough!!!!!... A great doctor!!!!!"

"After many years of suffering from hemorrhoids, Dr. Gupta solved the problem in a very quick and painless way. He used a new ligation system that eliminated the hemorrhoids in three visits. During the visits, Dr. Gupta treated me with care and patience, for which I am very thankful."

"Dr. Gupta is a kind and humble man who truly listens to his patients. He makes quick and accurate diagnoses, and confined to monitor me until I was fully recovered. During a very trying time, I found him to be comforting, and he helped me maintain a positive outlook. Great doctor!"